Deska pompowana SUP Aztron Soleil 11'0" (AZ_064)
Deska SUP Aztron Soleil 11'0″ AZTRON - RIDE INTELLIGENTLY (AZ_064)
DESKA NOWA, STAN DOBRY+, ZARYSOWANIA, KRZYWE KLEJENIE, ZABRUDZENIA Z KLEJU, BRAK ORYGINALNEGO KARTONU
SOLEIL 11'0 to hybrydowa deska łącząca w sobie tradycyjnego SUPa, możliwość wiosłowania na siedząco (po dokupieniu siedziska kajakowego) z windsurfingiem (po dokupieniu pędnika). Deska posiada kształt zbliżony do desek all-round dla łatwego wiosłowania. Opcja dodania żagla daje użytkownikowi niespotykaną wolność i kontrolę w każdej sytuacji. SOLEIL został wykonany w technologii DOUBLE DOUBLE (dwie komory, deska dwuwarstwowa). Użytkownik może wybrać pomiędzy żaglem 4.0 i 5.0, co pozwala na zachowanie kontroli w trudniejszych warunkach wietrznych.
Deska posiada trzy uchwyty i dodatkowe kółeczka D-ring pozwalające na przypięcie siedziska kajakowego, sposób jej wykonania sprawia, że jest znacznie ciekawsza od standardowego SUPa. SOLEIL to deska mocna, dynamiczna i wielofunkcyjna, dla zaawansowanego użytkownika, który dokładnie wie, czego od niej oczekuje.

SPECYFIKACJA
| | | | |
| --- | --- | --- | --- |
| DŁUGOŚĆ | 11'0" / 335cm | SZEROKOŚĆ | 32"/81cm |
| GRUBOŚĆ | 6" / 15cm | WYPORNOŚĆ | 315l |
| IL. UŻYTKOWNIKÓW | 1 | MAKS. CIŚNIENIE | 15 PSI |
| ZALECANA. WAGA UŻYTK. | 98KG / 216LBS | MAKS. OBCIĄŻENIE | 145KG/320LBS |
| WAGA | 12KG | KOD PRODUKTU | AS-901D |
TWARDE FAKTY
Technologia Double Layer Fusion na materiale drop-stitch zmniejsza masę deski o 25%, zwiększając jej sztywność o 30%

Niepowtarzalna grafika pokładu deski

Pokład pokryty pianką EVA 5mm o strukturze diamentu zwiększa komfort pływania i poprawia przyczepność.

Kick pad pozwala na szybkie skręty

Stalowe D-ringi do montażu smyczy (leash) bezpieczeństwa i siedziska kajakowego (opcjonalne)

Zintegrowane uchwyty bagażowe na dziobie wraz z linką mocującą

3 uchwyty do łatwiejszego przenoszenia deski

Dwa 

łatwe w montażu 

finy centralne US FINBOX

Zestaw akcesoriów w komplecie: plecak na SUP`a, pompka Aztron double action , smycz bezpieczeństwa (leash) oraz aluminiowe wiosło STYLE z płynną regulacją
GALERIA PRODUKTU

TECHNOLOGIA
 
Stosując technologię Double Chamber / Dwukomorową AZTRON redefiniuje standardy bezpieczeństwa pompowanych desek SUP. Wewnętrzna komora zapewnia 50% wyporności deski, dlatego gwarantuje bezpieczeństwo użytkownika w przypadku awarii na wodzie. Dodatkowa komora ze zintegrowaną konstrukcją w formie powietrznych filarów i bocznych ścianek umiejscowionych w obszarze w którym stoi użytkownik, w znakomity sposób wpływa na sztywność deski podnosząc ją o 30%. Technologia Aztron Double Chamber sprawia, że surfujesz prawie jak na sztywnej desce. Wszystkie pompowane deski SUP AZTRON są wykonane w technologii dwukomorowej.
 

SZTYWNA JAK TWARDA DESKA

Rewolucyjna dodatkowa komora działa jak dwuścienna powietrzna belka nośna, co przekłada się na zwiększenie sztywności konstrukcji deski. Pokrywa prawie połowę powierzchni deski, od początku foot pada aż do miejsca w którym montujemy smycz bezpieczeństwa. Dodatkowa komora jest strategicznie umiejscowiona na obszarze w którym przebywa użytkownik, co pozwala na zwiększenie sztywności i stabilności i tym samym zapewnia bezproblemowe pływanie nawet przy silniejszym wietrze i zafalowaniu.

 

30% SZTYWNIEJSZA

WIOSŁUJ BEZPIECZNIE, WIOSŁUJ INTELIGENTNIE

Wiosłowanie na SUP jest zabawą ale powinno być również związane z bezpieczeństwem. Technologia Aztron Double Chamber daje użytkownikom na każdym poziomie zaawansowania większy spokój w radzeniu sobie z każdymi warunkami na wodzie. Dodatkowa wewnętrzna komora oferuje co najmniej 100 - 150 litrów pływalności w przypadku awarii, zapewniając zdecydowanie większe bezpieczeństwo.




50% WYPORNOŚCI - BEZPIECZEŃSTWO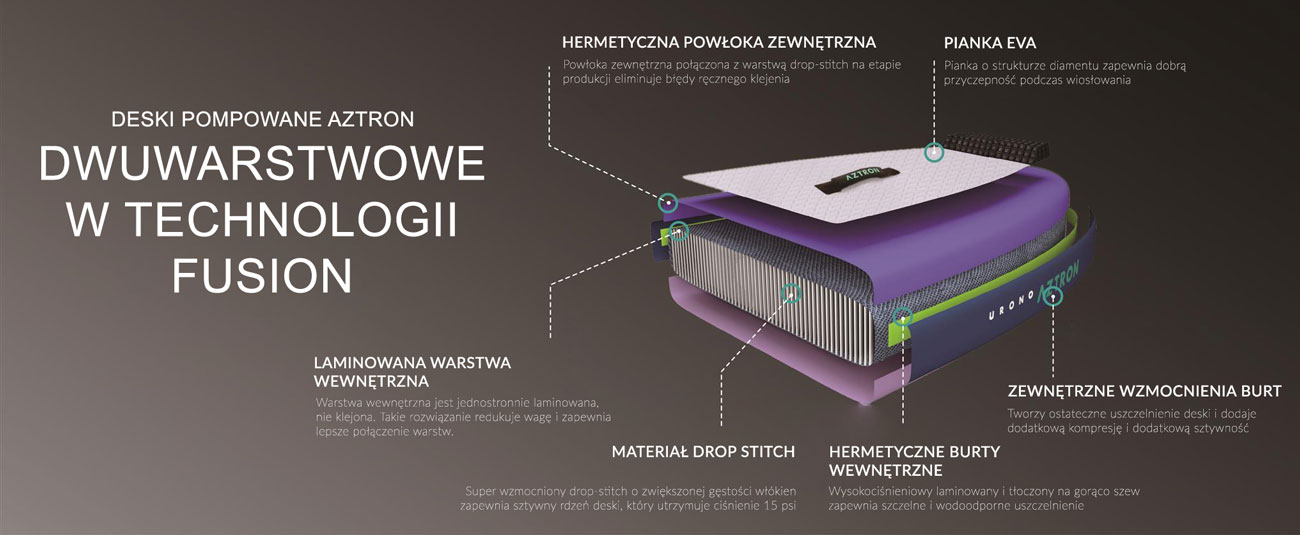 TECHNOLOGIA DOUBLE CHAMBER

"Niesamowicie bezpieczna". Konstrukcja Double Chamber została zastosowana we wszystkich pompowanych deskach Aztron. Druga komora powietrzna oferuje co najmniej 100 litrów pływalności w przypadku awarii, zapewniając zdecydowanie większe bezpieczeństwo. Wewnętrzna komora z dodatkowymi filarami powietrznymi i ściankami bocznymi umieszczonymi w strefie stania nadaje desce o 30% większą sztywność.Dzięki dwukomorowej konstrukcji mamy wrażenie pływania jak na twardej desce.
 
 
 
 
 
TECHNOLOGIA DOUBLE LAYER FUSION
"Extra sztywna i Ultra lekka". Technologia Aztron Double Layer Fusion zastosowana została we wszystkich deskach Touringowych i Specialty.Górna i dolna warstwa PVC są bezpośrednio laminowane termicznie na warstwie rdzeniowej i wokół materiału drop-stitch, Fusion Tech oferuje innowacyjną konstrukcję o zmniejszonej ilości klejenia. Zaletą technologii Double Layer Fusion jest:
• 25% mniejsza waga niż w przypadku tradycyjnej technologii dwuwarstwowej
• 30% sztywniejsza deska niż zwykłe jednowarstwowe pompowane SUP`y
• Mniej kleju i większa przyjazność dla środowiska
 
 
 
 
 

15CM GRUBOŚĆ

Wszystkie deski Aztron mają grubość 6 cali (15cm), co sprawia, że SUP`y są super stabilne w porównaniu do desek 4 calowych (10cm). Dodatkowe 2 cale są doskonałe w przypadku większego wioślarza, który chce mieć pewność, że na desce nie będzie absolutnie żadnego ugięcia pod dużym ciężarem. 6-calowa deska jest również idealna dla każdego, kto chce czuć się bardzo bezpiecznie będąc na wodzie.
 
 
 
 
 

FOOTPAD O STRUKTURZE DIAMENTU

Jednoczęściowa, miękka, szorstka pianka EVA 5mm o diamentowej strukturze zapewnia doskonałą przyczepność i komfort.
 
 
 
 
 

ZINTEGROWANY KICK PAD

Ogon deski Aztron meteor pokryty został pianką EVA o grubości 5 mm, która zapewnia maksymalną przyczepność dla stóp podczas wykonywania manewrów.

 

Kick pad pomaga maksymalizować osiągi przy każdym skręcie i zwiększać reaktywność deski.

 
 
 
 
 

MIEJSCE NA BAGAŻ

Elastyczna linka bungee pozwala na łatwe i bezpieczne przewożenie bagażu.

 

W prosty sposób zabierzesz ze sobą torbę dry bag, prowiant czy butelkę z wodą.

 
 
 
 
 

CENTRALNY UCHWYT

Centralnie umieszczony uchwyt do łatwego podnoszenia i transportu deski. Wszystkie uchwyty Aztron są wykonane z neoprenu z gumową podkładką, zapewniają użytkownikowi solidny chwyt i wygodne przenoszenie SUP`a.
 
 
 
 
 
ZINTEGROWANA STOPA MASZTU
Zintegrowana stopa masztu pozwala na bezproblemowe podłączenie pędnika Soleil 4.0 lub 5.0. Korzystaj bezproblemowo z SOLEIL jako deski windsurfingowej nawet przy silniejszym wietrze i większych falach!
 
AKCESORIA
| | | | | |
| --- | --- | --- | --- | --- |
| | | | | |
| WIOSŁO STYLE | POMPKA DOUBLE ACTION | PLECAK GEAR BAG 105l | COIL SUP LEASH 10' | 2 x FIN CENTRALNY US FINBOX |